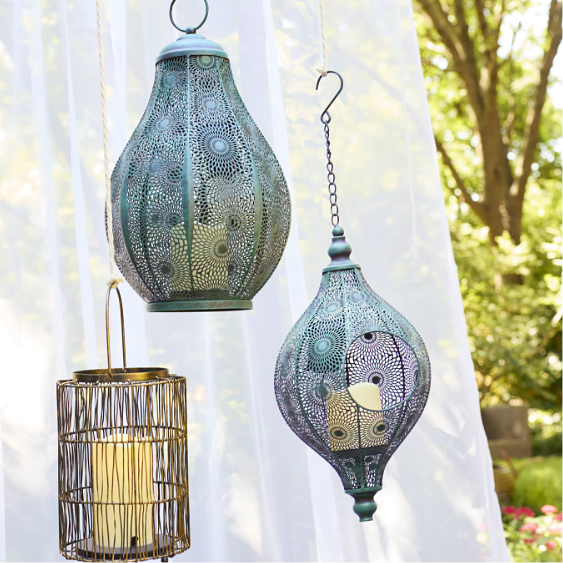 1. LEVEL UP YOUR LIGHTING
Lively outdoor lighting is essential for creating the perfect ambience and keeping your outside space lit up after the sun goes down.
Warm overhead café lights brighten and define an area. Twinkling outdoor string lights add a magical sparkle when hung above you or wrapped around trees. Electric bulb lanterns provide light wherever you need it, moving from tabletop to poolside. Flameless candles add a soft glow to conversational areas and accent tables.
Use small path lights to line the sides of walkways or edges of your garden, while tall ones are ideal for adding glow to the corners of your space. Sprinkle solar flowers or statues among your garden beds for a touch of whimsy and wonder.
---
TIP:

Solar outdoor patio lights let the sun light up your night. You don't need an outlet, so you can place them anywhere, as long as the charging pad is in the sunlight. Spend less on electricity and more on little extras!
2. FOUNTAINS FOR EVERY SPACE
Reinvigorate any outdoor area (and your headspace) with the tranquil sounds of a babbling brook.
A water feature means instant wow factor. Outdoor fountains create a natural focal point, whether placed in the middle or to one side of your space. Try to have a clear line of sight from all angles to make the most of your viewing possibilities. Even a small-scale installation has a big style impact.
There's a fountain to bring your whole look together. Simple, graceful rock formations that radiate zen and large modern waterfall walls that recreate nature. Elegant, ornate pieces with old-world charm and rustic farmhouse options with a welcoming feel.
---
TIP:

Give your fountain some final touches. Plant climbing vines along the base or craft a rock garden around it. Include aquatic plants like waterlilies inside. Float flowers, tealights and even ornaments for seasonal events, holidays or just no reason at all.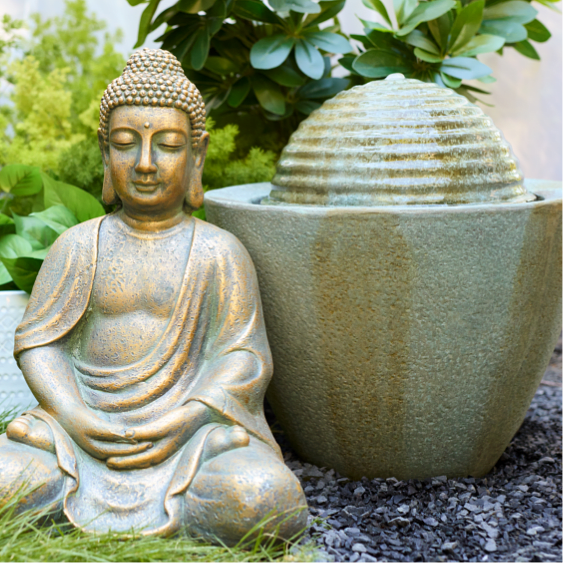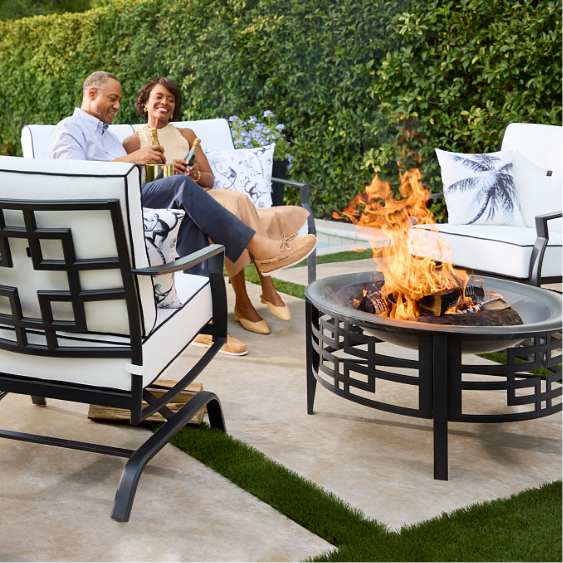 3. MAKE IT COZY WITH EXTRA HEATING
Warm up the ambience and yourself with fire pits that make every season an outdoor season.
Choose the right spot for your portable outdoor fire pit. Keep it away from branches or overhangs. Place it to one side of your space to balance out large elements like dining or lounge areas. Be sure to have multiple seating areas around your fire pit for when everyone is drawn to it, like moths to a flame.
Fire pits don't just keep your patio cozy during a fall breeze or winter chill; they have all sorts of hidden uses. Add a metal grill top for an instant outdoor kitchen. Create a makeshift table with a plexiglass top. Burn sage to deter mosquitoes. You can even spread the ashes in the garden for fertilizer.
---
TIP:

Want to make it even more hygge? Plush outdoor rugs add a comfy indoor vibe and keep your toasty feet off the cold ground. Add colored glass to your fire pit basin to create dazzling colors with every use.
4. LEAN INTO NATURE WITH GROUPS OF GREENERY
Grow a garden right on your covered patio with lots of pots and planters that give off that outdoor oasis vibe.
Looking for an eclectic boho look? Make your plants pop by mixing and matching pots in a variety of materials and colors. Want to let your plants take center stage? Choose understated pots with a neutral color and organic texture.
Your options are endless with containers that can be moved in and out of sunlight. Think grassy shrubs and spiky cacti, flowering trees and low-maintenance succulents, bright blooms and tropical palms, even herbs and spices.
---
TIP:

Use pretty plants to discourage pests. Citronella, lavender, basil, peppermint and catnip all repel mosquitoes. (And that means more outdoors with less ouch!)