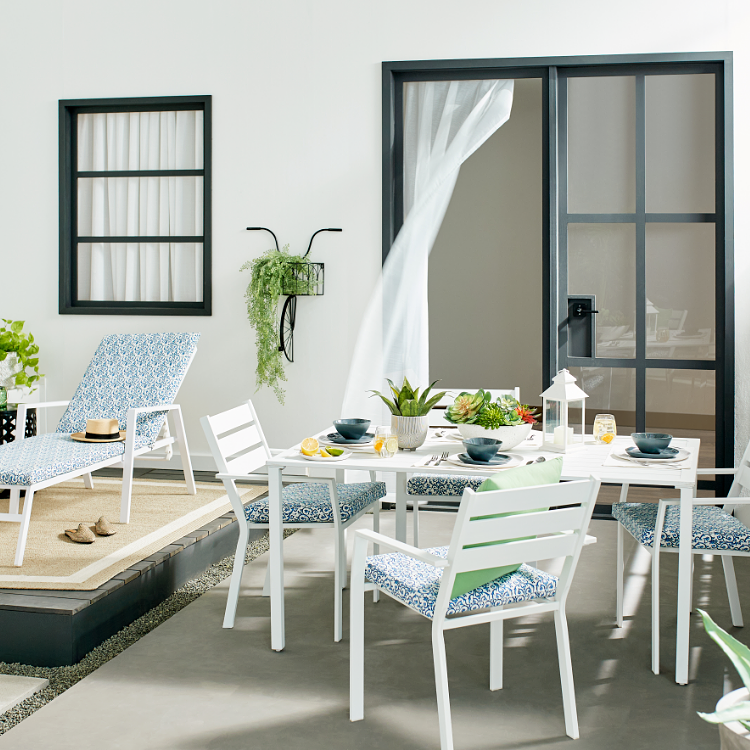 1. The Shared Balcony
Design your area to maximize every inch and enjoy your small space to the fullest.
Look for versatile furniture pieces that are easy to move. Slim high-top bar sets are ideal for limited space. Stools and poufs can become makeshift tables, seating, ottomans or footrests, depending on the need.
Focus on nature. Hanging planters bring in greenery without taking up floor space. Stools and accent tables are perfect for displaying pots and planters when not in use. Succulents are natural air purifiers, making them ideal for balconies.
---
TIP: Outdoor rugs and pillows are about style and comfort. Plus, move some comfy throw pillows onto the rug and you've got instant seating for unexpected guests.
2. The Perfect Patio
From small to large, create your own piece of paradise with room for eating and entertaining.
Divide your patio into different areas to make it feel bigger and more useful. A lounge space with cozy low seating for relaxed conversation. A dining set on the other side of the door, perfect for summer BBQs and weekend brunch. Maintain an open space in the middle to encourage flow to and from the rest of the yard.
Keep the furniture light and your patio seating layout flexible so you can adjust for the size of the crowd. A monochratic color palette will make the space feel larger and more cohesive. Add dimension without clutter by layering accent pieces in varying shades.
---
TIP: Bold ceramic stools add serious style and double as extra seating or accent tables. Dining benches can be moved to create extra seating or coffee tables for impromptu lounge areas.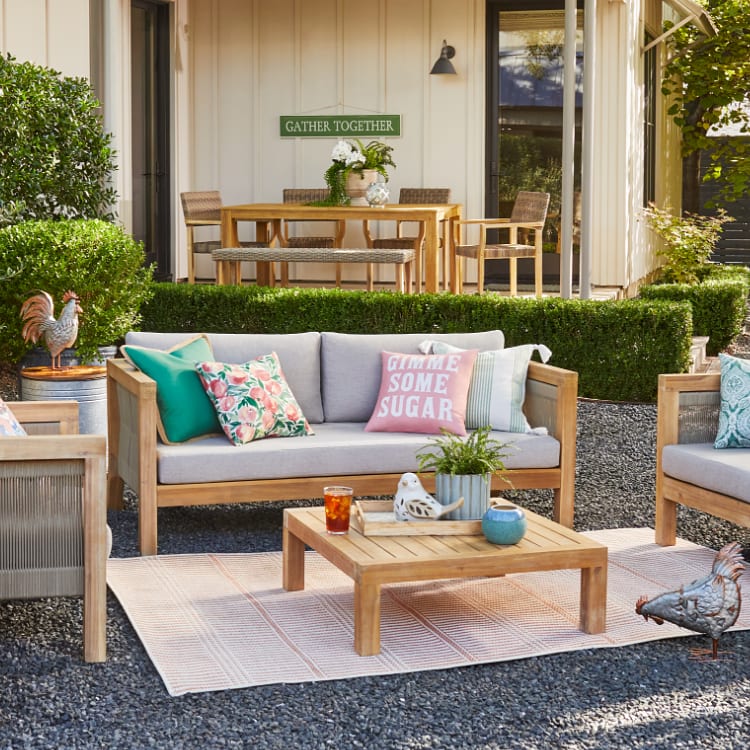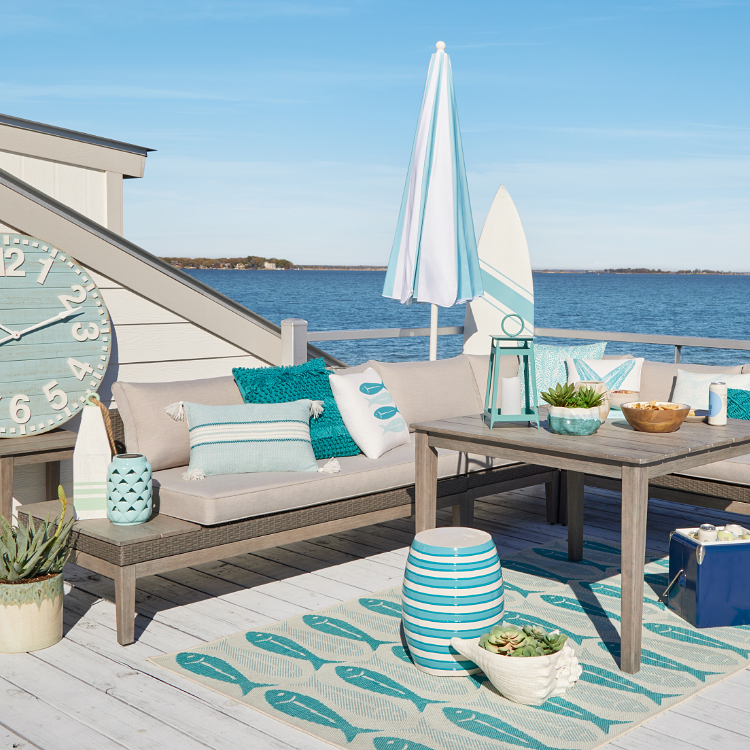 3. The Dynamic Deck
An outdoor extension of your home, think of your deck as a living room, dining room and year-round hangout spot.
From coastal cool to island breezes, decks have a classic low-maintenance vibe. Stick to furniture with clean lines, light colors and natural materials. Mix classic patterns and raw textures with laid-back décor and nautical nods.
Extend your outdoor living season by adding a fire pit or heating element. You'll get firelit ambience every night and a toasty, cozy retreat in cool months. (Don't forget an outdoor rug to warm those chilly feet.)
---
TIP: With low-profile pieces you can focus on the view, and with tons of comfy cushions you can sit there long after sunset.
4. THE BEST BACKYARD
With endless backyard seating ideas, this undefined space is perfect for multiple areas with pleny of room for activities and tons of possibilities for personalization.
Set up a comfortable lounge area farthest from your home to draw people out. Keep your dining area close to the kitchen to cut down on back-and-forth. Use outdoor rugs and lighting to create defined areas that truly feel distinct in the wide-open space.
Set a mood (and a table) no one wants to leave. Add an umbrella so you can dine in any weather. Keep it comfy with cushions or pillows. Upgrade your outdoor dining with shatterproof melamine dinnerware that's all style, no stress.
---
TIP: Use your landscape to create small conversational retreats. Place a bench in a wide flower bed or a bistro set under tall trees. Use soft-colored ground lighting to highlight these hideaways.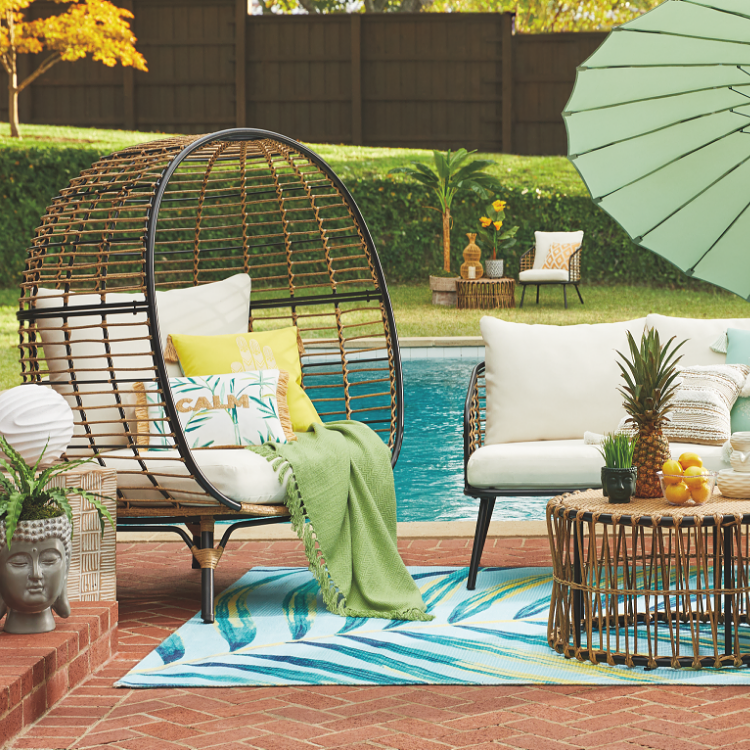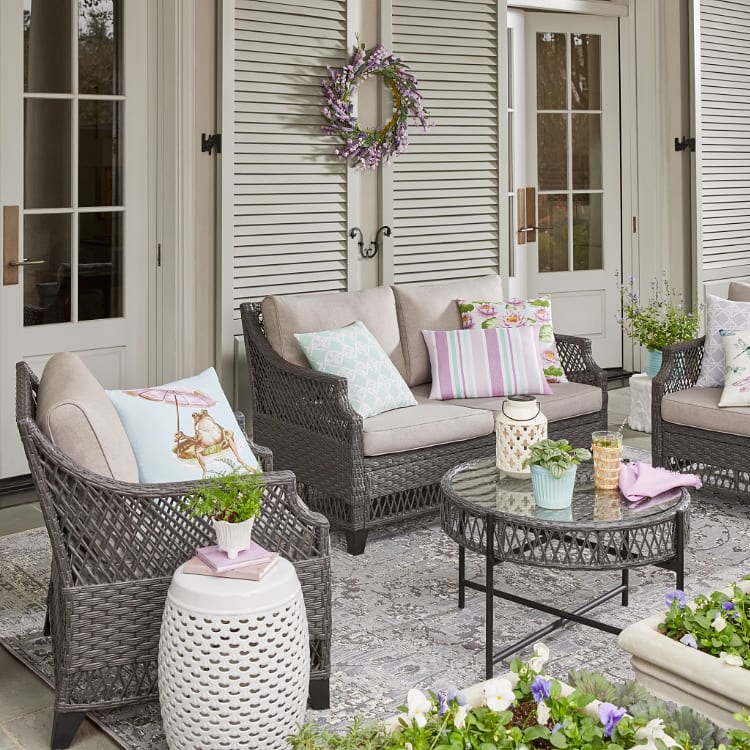 5. The Private Porch
Designed to combine the fresh ambience of outdoor living with the comfort and style of your favorite indoor space.
Pick a large piece of furniture and place it offset from the center of the room to draw the eye forward. A pair of bistro sets lets you use as many pieces as needed and fold away the rest for mix-and-match seating options.
Lounge longer with a cozy, welcoming atmosphere. Feature lots of layered fabrics — think outdoor rugs, pillows, throws and sheer curtains, if the space allows. If you don't have lots of natural light, lean into mood lighting like standing lamps, solar lanterns and string lights.
---
TIP: Greenery adds texture and helps your porch come to life (even if the plants are only pretending to be alive!). Group plants in clusters to enhance the hidden-room-in-a-garden vibe.
6. The Poolside Oasis
Designed for lazy lounging and lively conversation, nothing says summer living like the pool.
Work with your pool's natural layout. Place chaise lounges with umbrellas along the long sides of the pool. Set up dining areas and additional seating on the short sides of the pool. (And keep each area focused on its purpose to avoid pool tubes on the table and plates near the pool.)
Keep your style welcoming and energetic. You have a large space that's visually empty in the center, so don't be afraid to bring in lots of color and patterns — oversized baskets to hold extra towels, outdoor cushions and pillows, bright patio umbrellas and fun outdoor décor.
---
TIP:Don't forget a poolside outdoor rug. It can minimize wet footprints in your house, maximize safety by helping to prevent slips and falls, and show off your style all at once.