Our Leadership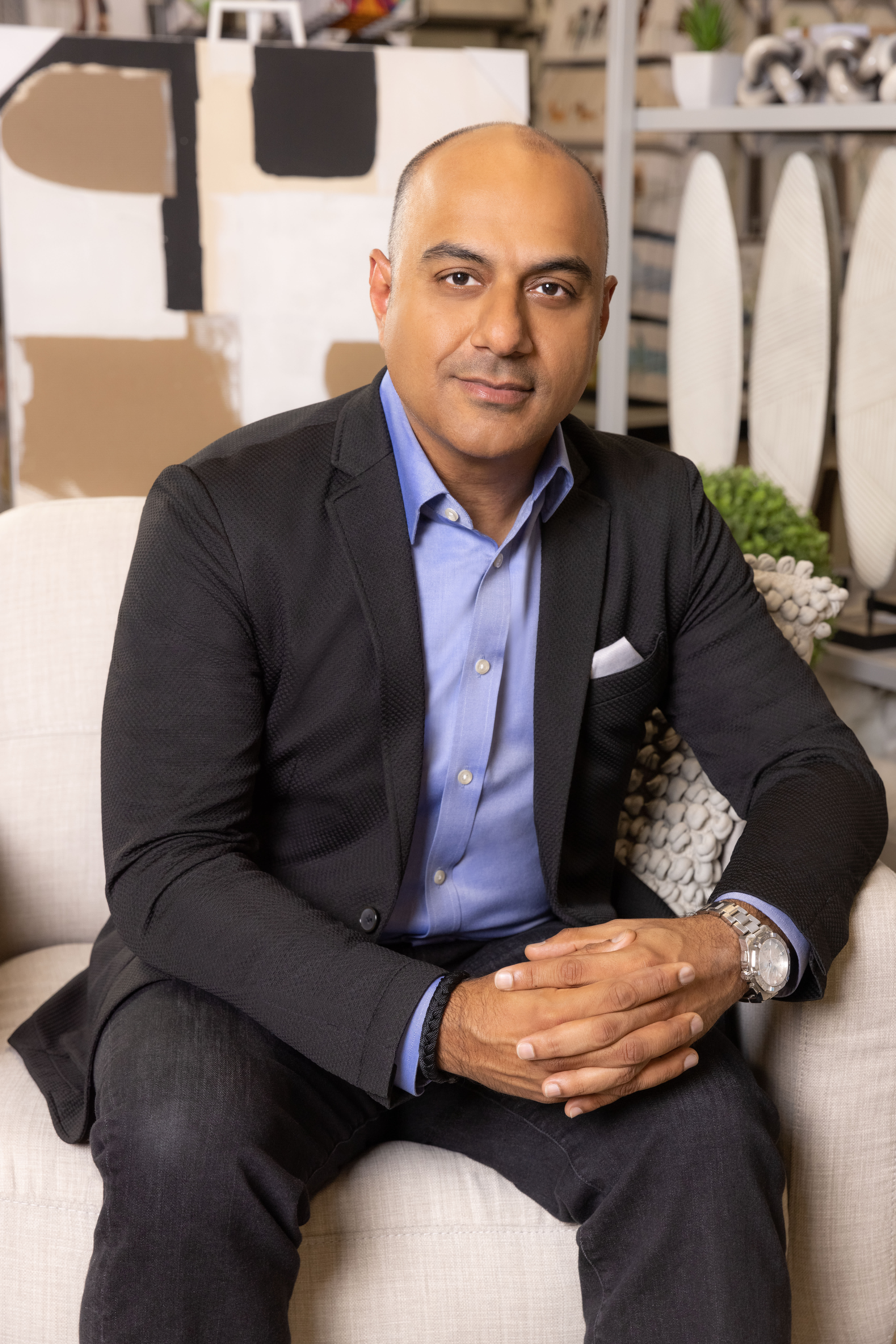 Sumit Anand
Chief Information Officer and Head of Strategy
Sumit Anand joined At Home in July 2018 and currently serves as Chief Information Officer and Head of Strategy. Prior to At Home, Sumit was the Senior Vice President of Information Technology from 2015 to 2018 at Signet Jewelers, a large specialty jewelry retailer in the United States, Canada and United Kingdom. In that role, Sumit was responsible for leading the Technology and Digital Modernization and Transformation initiative across eight global brands and several business capability areas, including stores, Ecommerce, omni-channel, supply chain, analytics, merchandizing, HR and finance. Sumit also previously served as an executive in Accenture's digital retail practice from 2007 to 2015. He was the Strategy and Technology Account Lead Accenture's largest global retail client and worked with various national and international retail organizations including Best Buy, Signet Jewelers, Walgreens, Neiman Marcus around their corporate strategy, international expansion, digital and technology transformation and M&A initiatives.
Sumit received his MS in Information Systems from University of Colorado. Sumit was the Enterprise Winner of the 2020 Dallas CIO of the Year ORBIE Awards and was also named to the D CEO Dallas 500 Most Influential Leaders in North Texas.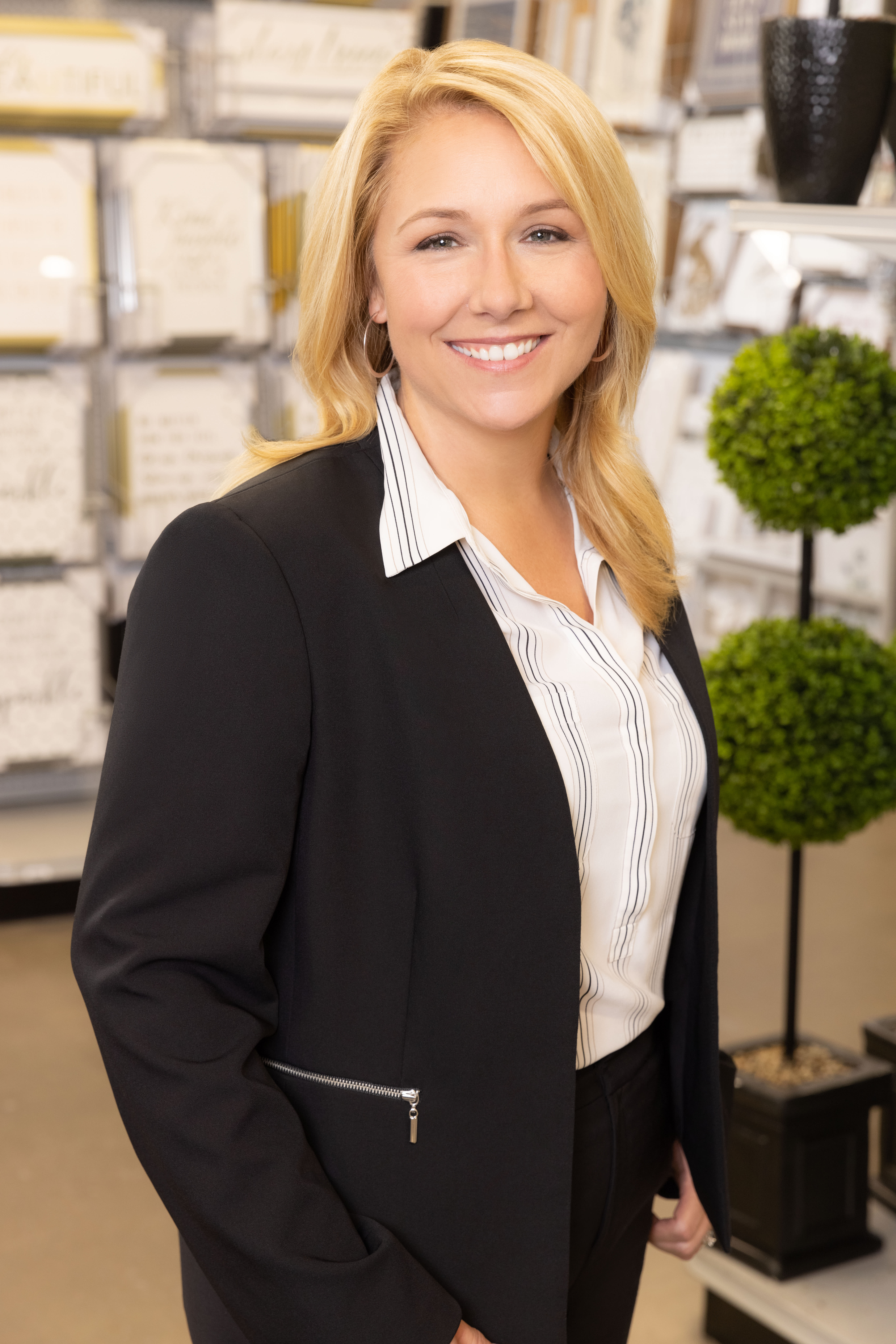 Catherine (Kathy) Aslin
Chief Human Resources Officer
Catherine (Kathy) Aslin joined At Home as Chief Human Resources Officer in October 2020. She most recently served as Senior Vice President, Human Resources at Six Flags Entertainment Corp, where she led the overall human resources vision, including organizational design, leadership development, team member training and education, compensation and benefits, talent acquisition and employee relations. Kathy started her 20+ year career at Six Flags as a summer intern and went on to hold a number of management positions in Admissions, Guest Relations, Finance, In-Park Services, Corporate Marketing and Human Resources.
Kathy holds a Bachelor of Science in Business Management from St. Gregory's University and an MBA from The University of Texas at Dallas.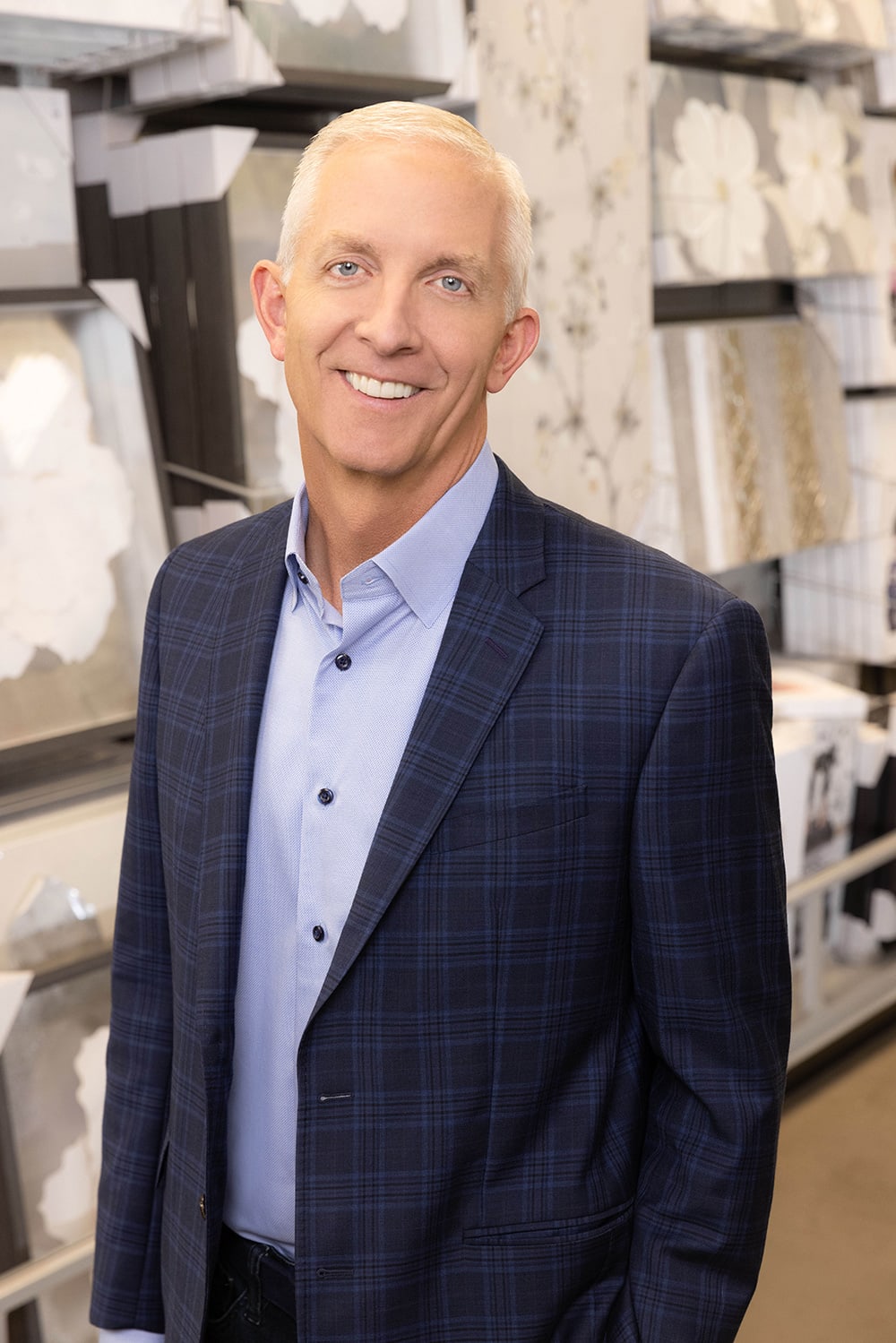 Lewis (Lee) L. Bird III
Chairman of the Board and Chief Executive Officer
Lewis (Lee) L. Bird III serves as Chairman of the Board and Chief Executive Officer for At Home. Lee joined the company in December 2012, and in a short time, transformed the 35-year-old Garden Ridge brand into the more consumer-relevant At Home retail chain with over 255 stores.
Before joining the company, he held a variety of leadership positions, most recently serving as Managing Director of The Gores Group, a global private equity firm that specializes in acquiring and partnering with mature and growing businesses. Prior to that, Lee served as President of Nike Affiliates for Nike Inc., Chief Operating Officer of Gap and Chief Financial Officer of Old Navy. In addition, he was Vice President of Finance & Operations for Gateway, Inc., Senior Director of Corporate Finance for AlliedSignal, Inc., and Director of Finance & Business Management at AlliedSignal Engines. He also held various senior financial and strategic positions for Ford Motor Company, and served as Assistant Vice President & Commercial Loan Officer for BayBanks, Inc.
Lee received his MBA from Olin Graduate School of Business at Babson College and his Bachelor of Science in Finance from Ithaca College. He also serves on the National Advisory Committee for Marriott School of Business at Brigham Young University.
Lee is currently on the Board of the Larry H. Miller Company, where he chairs the Investment Committee and is a member of the Ownership Advisory Group of the NHL Dallas Stars.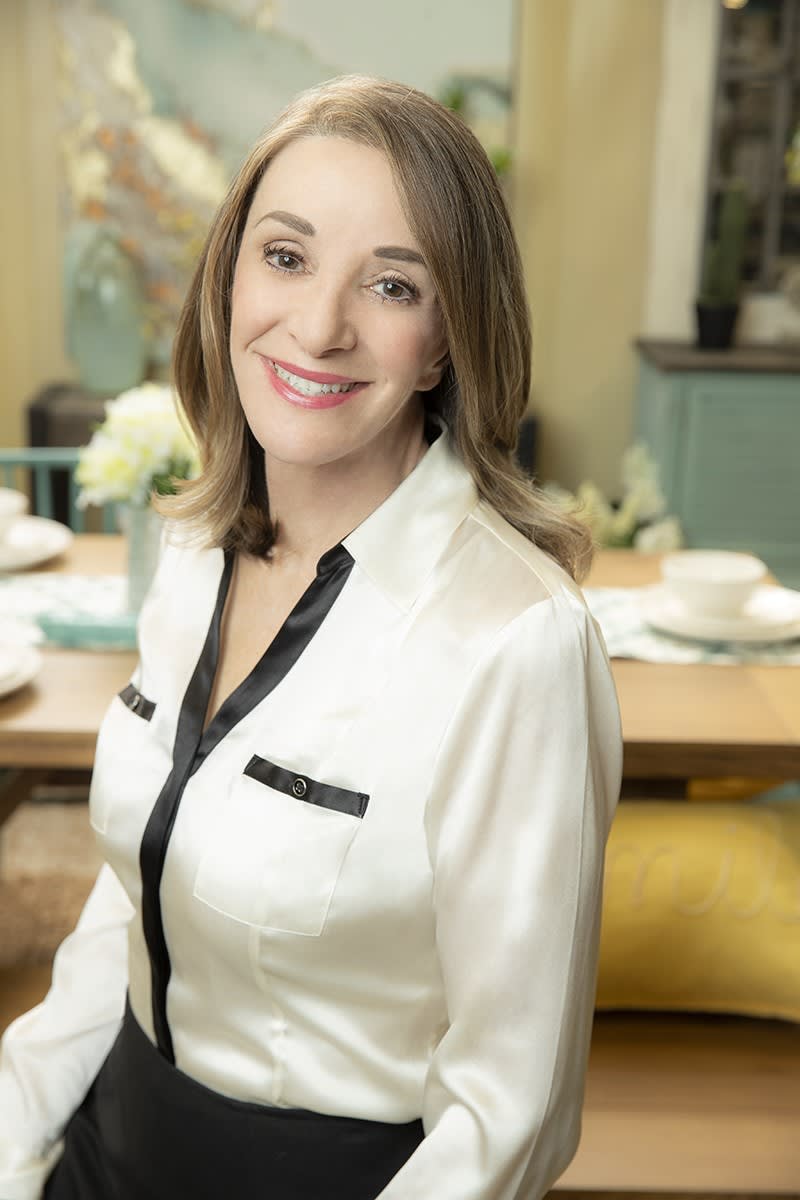 Mary Jane Broussard
Chief Administrative Officer, General Counsel and Corporate Secretary
Mary Jane Broussard has served as At Home's General Counsel since March 2014, Corporate Secretary since September 2015, and as Chief Administrative Officer since June 2020. Previously, she served as Vice President, Corporate Counsel since June 2013. Prior to joining us, Mary Jane was a partner with Brown McCarroll, L.L.P. from 1993 to 2013, a regional law firm based in Dallas. Prior to her legal career, Mary Jane was a Certified Public Accountant with a national accounting firm from 1982 to 1984.
Mary Jane received both her Juris Doctorate and Bachelor of Business Administration from the University of Texas at Austin. She previously served on the Board of Trustees for Dallas Children's Advocacy Center and as a Member of Jesuit Dallas Museum. In 2022, she was a finalist for D CEO's Mergers & Acquisitions Attorney of the Year award and winner of the 2021 Constantine "Connie" Konstans Award.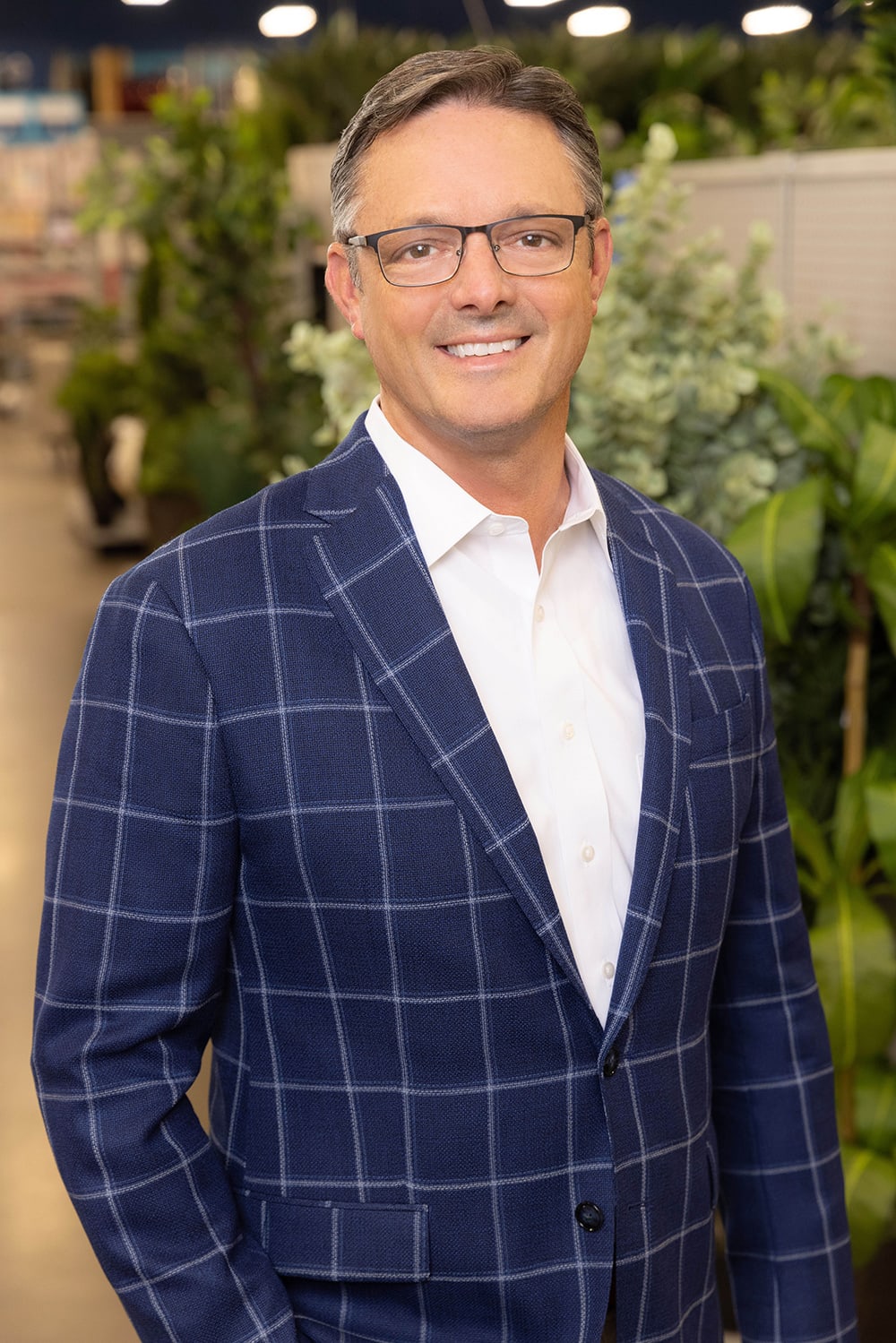 Alfred (Al) Litchenburg
Chief Development Officer
Alfred (Al) Litchenburg, Chief Development Officer, leads At Home's Real Estate Development, Architectural Design, Construction, and Facilities teams. He joined At Home in 2021 after nearly three decades with Yum! Brands, where he served as Chief Development Officer for Pizza Hut U.S. for the last 11 years. In that role, Al was a member of the executive leadership team and led all aspects of store design and development for the U.S. Pizza Hut brand. Al started as a Project Architect with Pizza Hut in 1993, and his career advanced as he assumed more senior positions at Yum! Brands, including Franchise Development Director for Taco Bell, Senior Director of Architecture & Engineering for Yum Brands (all concepts), and Vice President of Development for Pizza Hut U.S. He was promoted to Chief Development Officer for Pizza Hut U.S. in 2010. Early in his career, Al was a Project Leader for BSW International Architects and Engineers in Tulsa, OK and worked with clients such as Wal-Mart and Sam's Club.
Al holds a Bachelor of Architecture from Oklahoma State University and a Master of Architecture and Urban Design from the University of Oklahoma.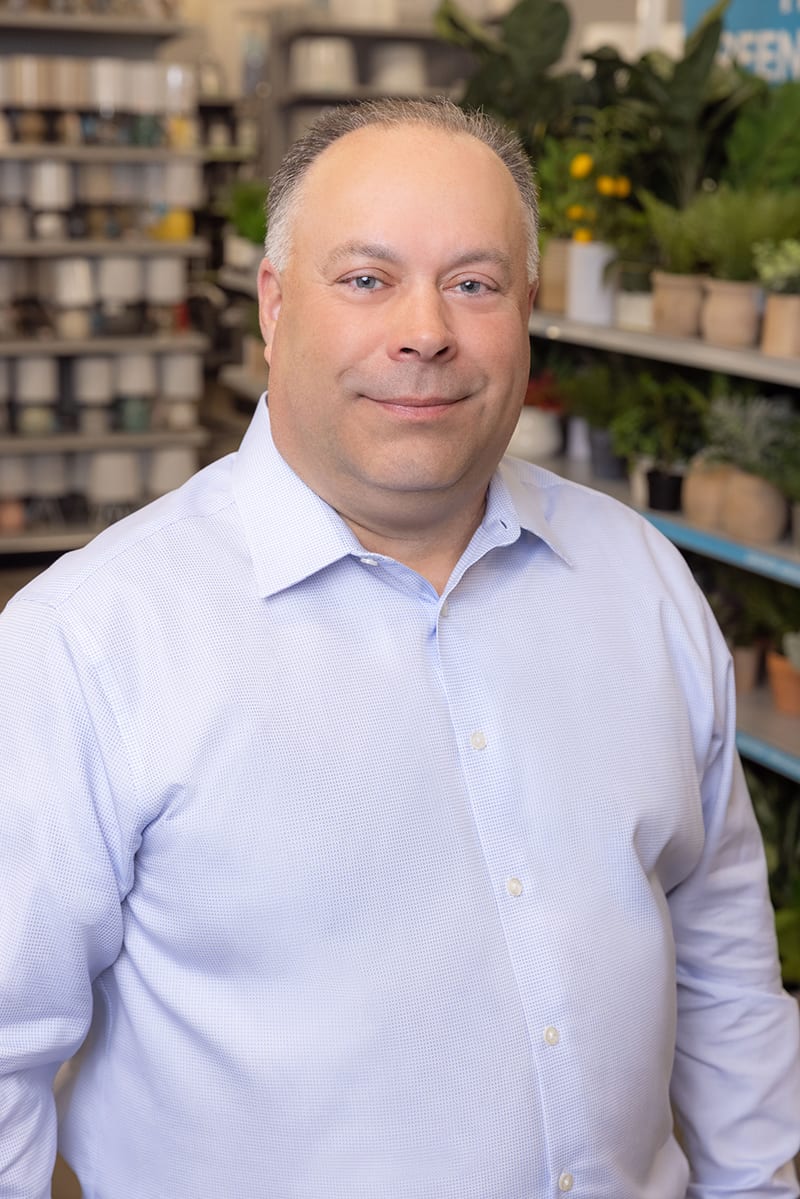 Jerry Murray
Chief Financial Officer
Jerry Murray, Chief Financial Officer, leads our Finance, Accounting and Treasury teams. Jerry began serving as interim CFO for At Home in June 2022 and assumed the permanent role in September 2022.
He has 30 years of experience with nearly half of his career spent in the retail industry. Most recently, Jerry was SVP of Finance for PFSweb Inc., leading and directing all finance functions for the $400M ECommerce services company. Jerry's retail experience includes serving as the SVP of Finance and Interim CFO at JCPenney from 2016-2019, as well as Vice President/Divisional CFO Logistics and several other executive finance roles at Walmart from 2006-2013. Jerry served as SVP & CFO of Valassis, a $2.5B marketing and media company from 2014-2015. He also gained significant and complex financial experience at other companies like General Motors, Honeywell and Price Waterhouse Coopers earlier in his career.
Jerry holds both an MBA and BS in Business Administration from The Ohio State University.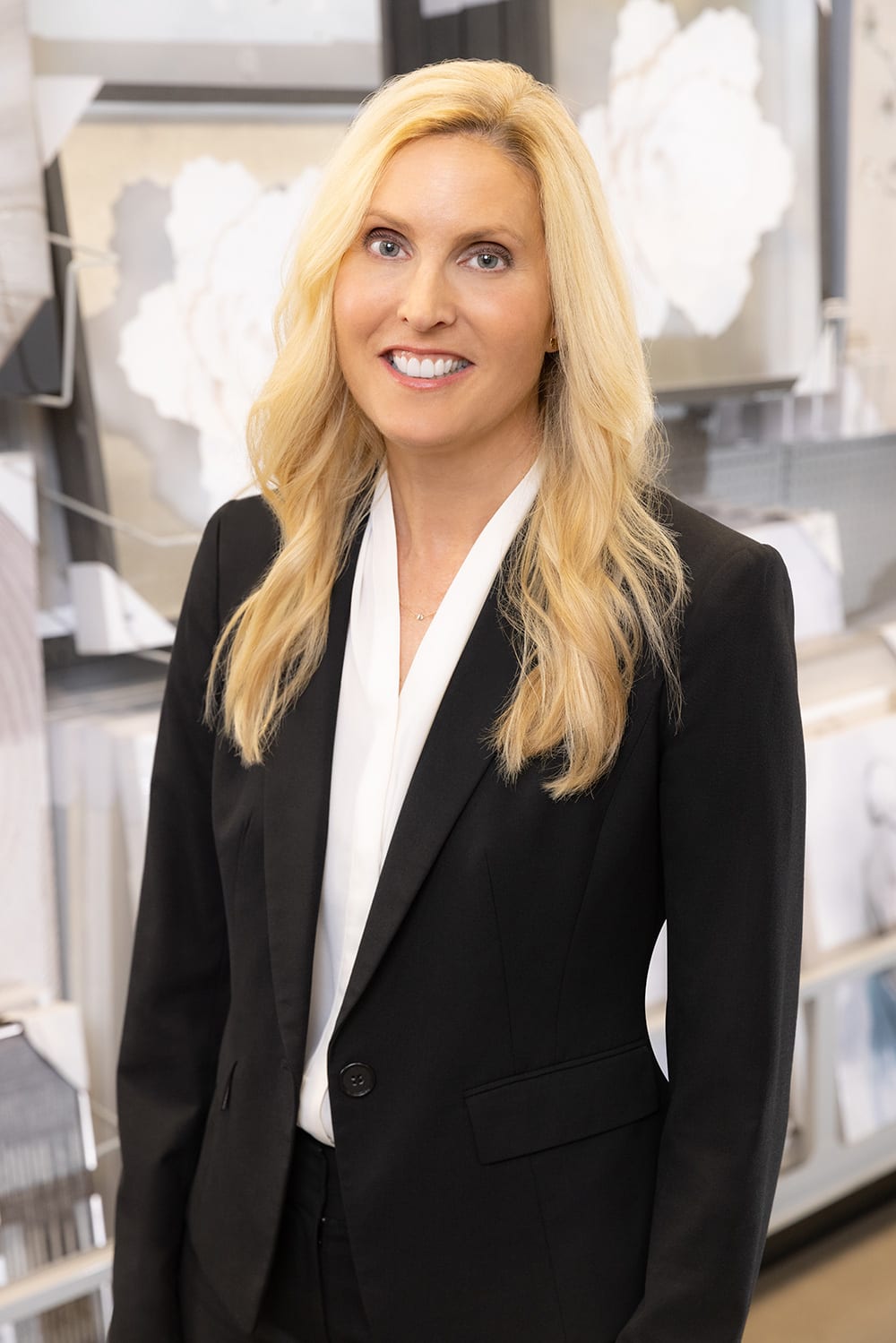 Ashley Sheetz
Chief Revenue and Customer Officer
Ashley Sheetz currently serves as Chief Revenue and Customer Officer for At Home. Her responsibilities include leadership of Store Operations, Loss Prevention and Safety, Customer Service, Omnichannel, ECommerce and all Marketing functions. Her previous role with At Home was Chief Marketing Officer and Chief Digital Officer.
Before joining the company in 2017, Ashley served as Chief Marketing Officer, Group Vice President of Sally Beauty, where she focused on repositioning the brand and transforming the customer experience. Prior to Sally Beauty, Ashley held various marketing leadership positions from 2008 through 2014 with GameStop, including Chief Marketing Officer and Vice President of Strategy where she focused on long- term growth and launched new businesses and store concepts. Ashley spent the first twelve years of her career at advertising agencies including Publicis and DDB working on national brand accounts including American Airlines, Verizon, Omni Hotels, T.G.I.Friday's and Hershey's Milks.
She received her Bachelor of Science in Advertising from the University of Texas at Austin and earned a Graduate Finance Certificate from the Southern Methodist University's Cox School of Business. Ashley currently sits on the Board of Directors for California Pizza Kitchen and Dallas Area Habitat for Humanity and previously was a Board Director for Springs Window Fashions. She has also received several awards including a Cannes Lion and was named a "Top 50 Women in Brand Marketing" by Brand Innovators. In 2020, she received the CMO Technology Leadership Award from the CMO Club and Top Women in Technology Award by Chain Store Age.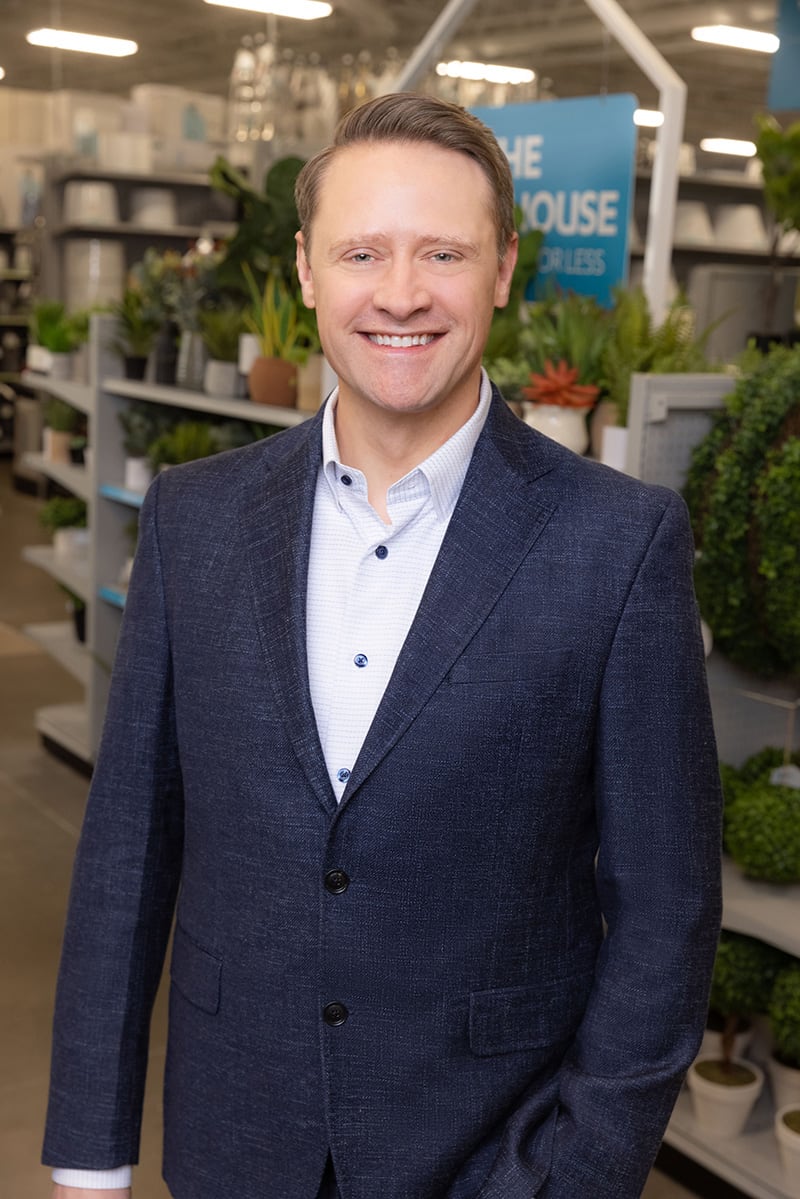 Chad C. Stauffer
President, Chief Merchandising and Product Officer
Chad Stauffer is President and Chief Merchandising and Product Officer for At Home. He joined the At Home team in 2018 as Senior Vice President, General Merchandising Manager-Everyday and was promoted to Chief Merchandising Officer in 2019 and became President in 2021.
Prior to At Home, Chad spent over nine years at Bon-Ton, serving as President of Merchandising and Marketing, Chief Merchandising Officer, and Senior Vice President and General Merchandise Manager of Center Core Children's. He was previously Senior Vice President and General Merchandise Manager of Men's, Children's and Home, and Group Vice President of Private Brand Strategic Planning and Product Development for Men's and Children's. Chad also held leadership positions at Belk Department Stores, Kohl's, J.C. Penney, and May Department Stores.
Chad holds a Bachelor of Arts in History from Brigham Young University.