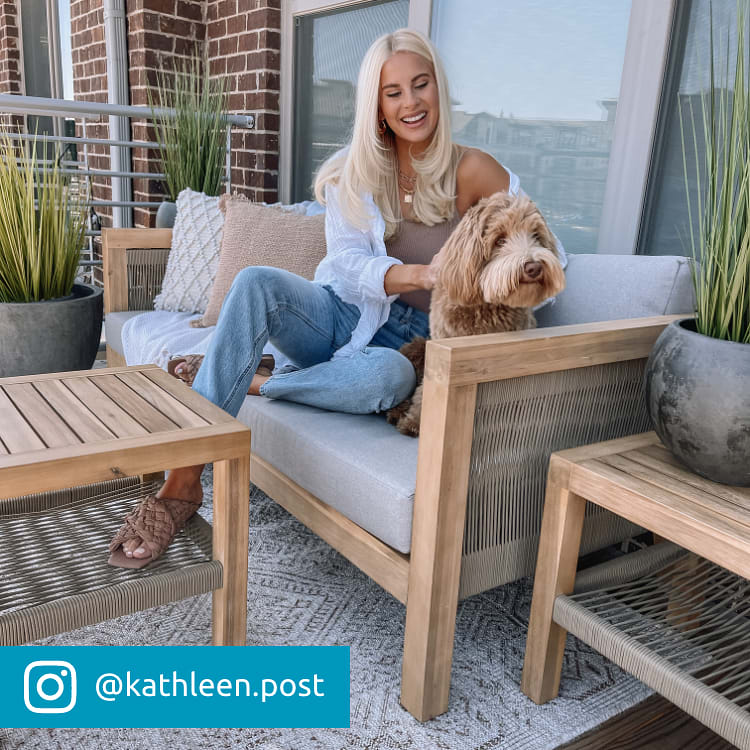 1. Show Off Your Style
Want to show off big style but don't want it to look erratic? Neutral colors are key to small balcony decorating ideas.
Go for light-colored furniture and natural woven textures that will blend into the background and highlight the scenery. Keep your look clean by choosing accent pieces and décor in similar earthy shades. Keep your look exciting by mixing in tons of different textures, from planters to pillows to rugs.
---
TIP:

You don't have to give up your love for patterns; simply go for ones in earth tones. Vary the scale of your patterns to keep the space looking balanced.
2. Level Up Your Layout
The smaller your outdoor area, the more important it is to make the most of every square inch.
Dividing your balcony into separate areas can help it feel larger, more useful and more organized. Keep sections distinct with lighting, rugs or décor, but keep furniture light and versatile so you can switch it up for the situation. Choose materials and styles that keep your space feeling light and airy - think woven textures, organic materials and open-weave design.
---
TIP:

Working with a really narrow area? Try facing all of your furniture outward toward of the view instead of creating face-to-face seating. (Perfect for apartment balcony decoration!)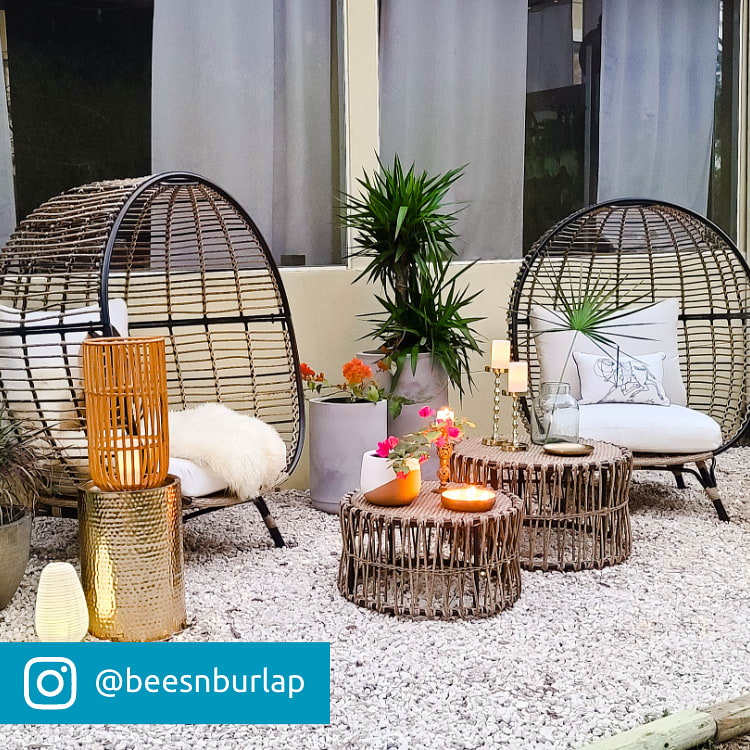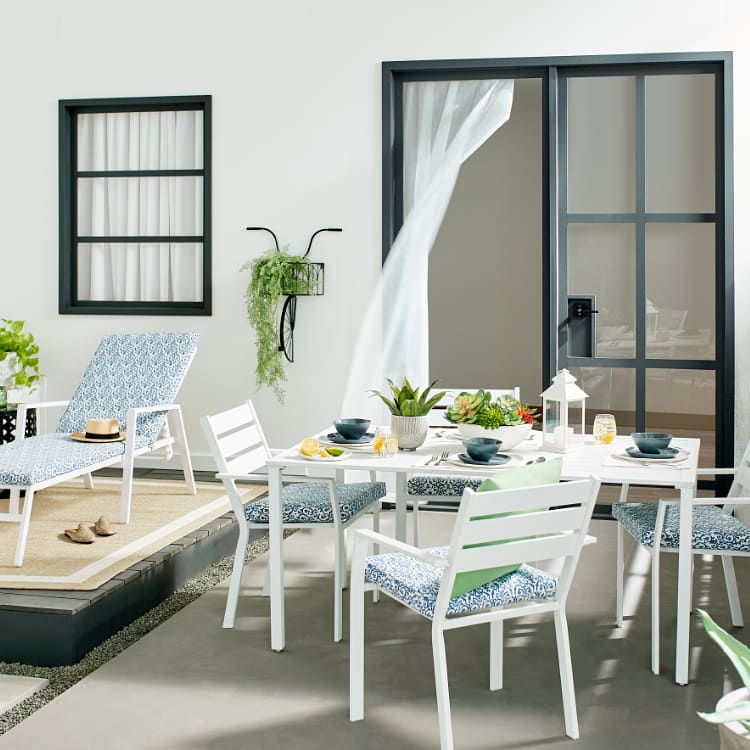 3. Find the Right Furniture
Every balcony has unique challenges, and you need unique balcony furniture ideas that will help fill the space without crowding it.
Foldable bistro sets are perfect small-balcony furniture. Bar-height dining sets feature seating that fully slides underneath the tabletop. C-tables have a small footprint and sit over the other pieces. Nested coffee tables let you set the table for the situation.
---
TIP:

Small space doesn't always mean small balcony furniture; outdoor areas can feel smaller when visually sparse. Create a natural focal point by picking out a single large piece (anything from an accent chair or tall shelf to an oversized planter).
4. Make Use of Multitaskers
Your outdoor options are limited only by your own creativity and the flexibility of your outdoor balcony furniture.
A collapsible bar cart can do everything from displaying décor and storing supplies to carrying cutlery and delivering drinks. Versatile ottomans, stools and poufs can be used as side tables, seating, footrests or plant stands. Slim bar-height tables can be used for sit-down dining or cocktail-party mingling.
---
TIP:

Make it work! Two benches can be seating for four or a table and seating for two. Have one chaise lounge but three people? Toss a few pillows or poufs on an outdoor rug, and your chaise becomes a coffee table.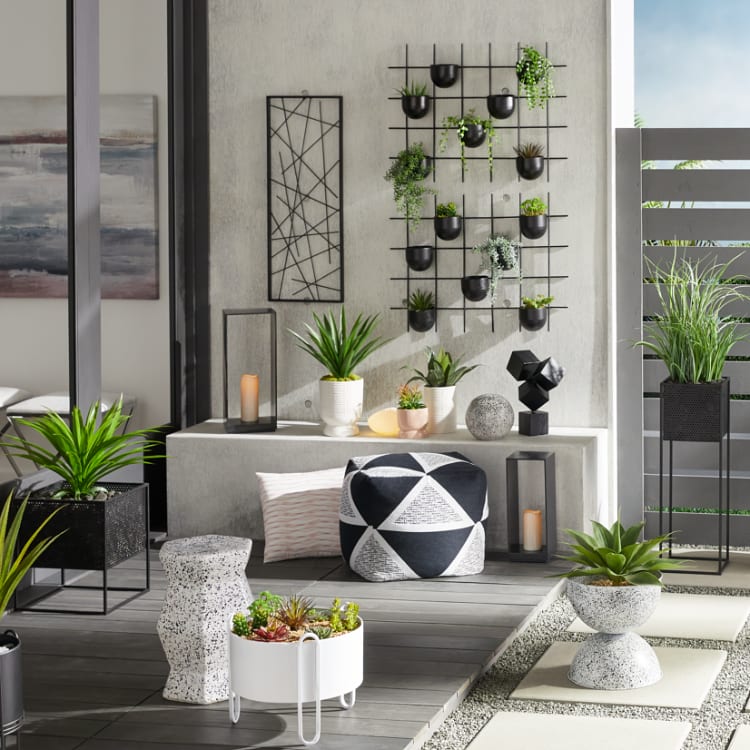 5. Highlight It With Height
Add more storage (and more style) to your space by taking advantage of vertical space on your balcony.
Hanging plants can make a balcony appear lush with greenery without taking up valuable square footage. Vary the height of accent tables, planters and stools to keep the space feeling open. Tall freestanding shelves and slim wall-mounted shelves are perfect for small plants, lights and décor.
---
TIP:

Stairs are often an unused area that can provide extra storage space or simply show off your style. Stack poufs or ceramic stools on steps when you need more room, or use pots and planters to create a jungle oasis along the side.
6. Add the finishing Touches
Creating a balcony that begs to be used is all about the little extras that turn a bit of outdoor space into a beckoning outdoor oasis.
Add some interesting lighting and some dazzle to your décor. From string lights to lanterns, the varieties (and vibes) are endless. Bring life to your design with hanging baskets, window boxes and railing planters that get your greenery off the ground. Try growing herbs to make your balcony smell as fresh as it looks.
---
TIP:

Outdoor rugs are a must! They help delineate areas, cover up ugly floors and keep concrete from getting too hot, and they're the perfect way to show off some style without taking any floor space.