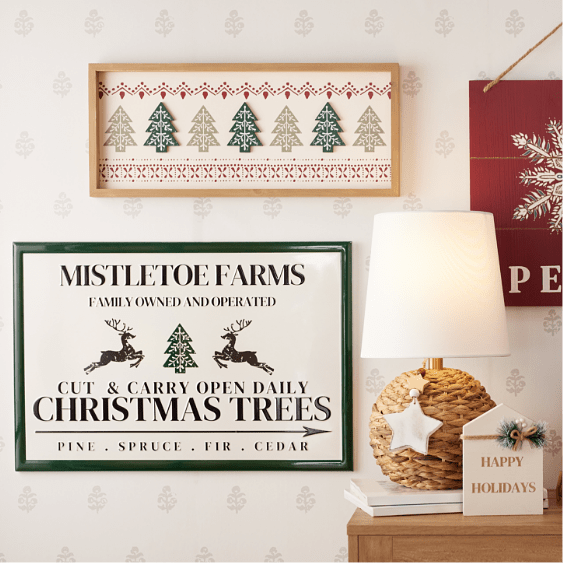 1. CHRISTMAS WALL DÉCOR
As you start decorating for the holidays, don't forget to "deck the walls" with Christmas wall décor. Browse At Home's many decoration options like countdown to Christmas calendars, festive wreaths, "Fresh Gingerbread" signs and LED Christmas Village pictures. A well-placed holiday sign that matches this year's decorating theme can help tie the entire room together. Let us bring the cheer of the season into your home this Christmas.
2. TABLETOP DÉCOR
As friends and family gather for the holidays, the dining room table usually becomes front and center. Adding the perfect tabletop décor or tree will make your holiday decorating stand out. Browse At Home's full selection of table décor, from reindeer and sleighs to glitter cone trees and gingerbread houses. Our tabletop décor options are the perfect addition to your home this Christmas.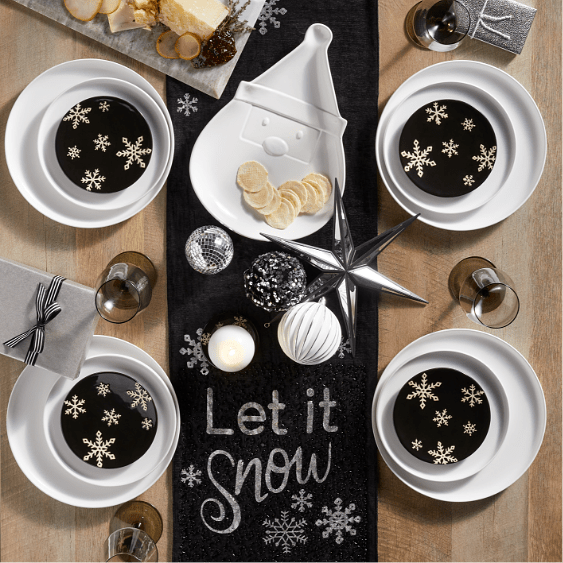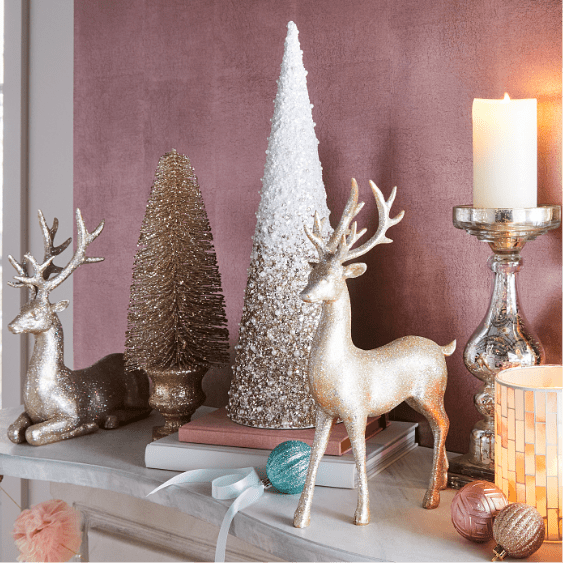 3. CHRISTMAS TABLETOP TREES
Christmas trees are a mainstay when it comes to the holidays, and with At Home's full collection of tabletop trees you can decorate more than just the living room. Christmas Tabletop Trees look great on dining room tables, side tables and dressers while adding a cheerful touch to your home. With options like Gingerbread, Pink Bottle Brush and Silver Glitter Vine, there's a tree that will fit every style and budget, or you can mix and match our Glitter Cone Trees in various colors. The possibilities are endless when you shop At Home for your Christmas décor.
4. STOCKINGS & HOLDERS
Christmas tree, check! Countdown calendar to Christmas, check! Beautiful wall and tabletop decor with holiday sayings, check! As you're checking your list twice for all of your Christmas decorating needs, remember to pick out and hang your stockings for Santa. At Home has you covered with a full collection of stockings & stocking holders. An Ivory Bear Plush Stocking offers a cute and festive feel for your mantel, or choose a Gold Faux Silk Stocking for more elegance and style. And after you select your stocking, browse our wide assortment of stocking holders to hang above the fireplace.