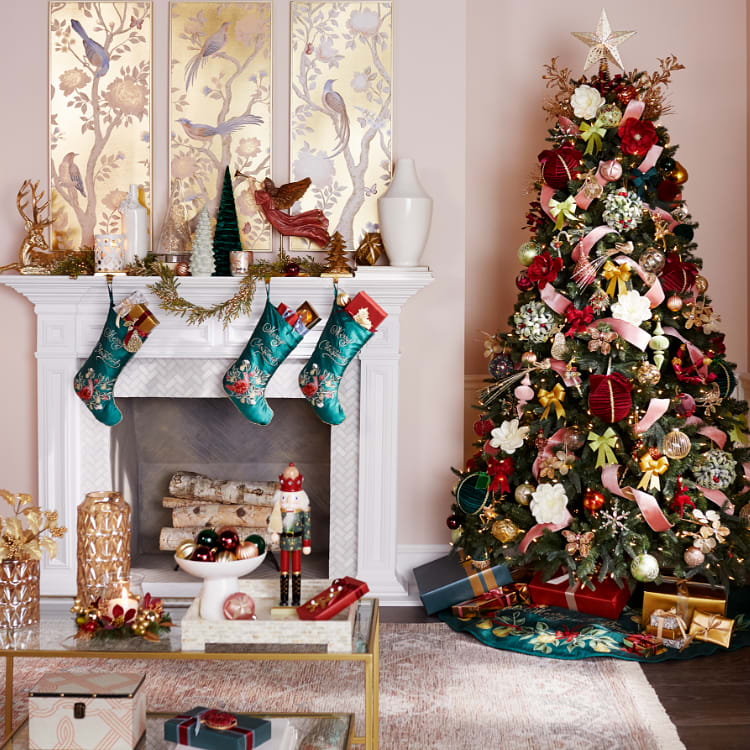 1. WORK YOUR WONDERLAND STYLE
Picking a style or theme is fun and helps set the tone for your gathering. Don't feel like you have to go with traditional red-and-green. Go for classic blue and white, soft and elegant pinks with champagne, or layer in metallics for festive glam and sparkle.
Keep your front door festive with a wreath, florals and some big outdoor décor. It's better to keep decorations easy casual in functional spaces like the kitchen. Go for large Christmas centerpieces and tons of small details in the living and dining spaces, where guests spend most of their time. Don't forget the mantel. Lay down Christmas wrapping paper and then top with garland and LED Christmas candles for a warm, inviting look (and a perfect picture backdrop!).
---
TIP:

Greenery isn't just for the tree. You can wrap evergreen garland around the banister with twinkle lights, drape it over doorways and sprinkle it throughout your table spread to add a warm, organic touch.
2. CHEERS TO CHRISTMAS
Guests are sure to work up a thirst with all the merrymaking, so preplanning drinks is important. Consider the amount of space you'll need for your guest list. A bar cart is perfect for smaller get-togethers, while a large console works better for big gatherings. Have some drink options prepared in advance so you don't have to play bartender and greeter at the same time.
Choose alcoholic and nonalcoholic Christmas drinks so everyone can have something fun to sip on. A hot-chocolate bar is always a crowd-pleaser (especially paired with a whole tray of fun toppings). Christmas-up the area with anything you love— small Christmas décor items, Christmas ornaments, garland and décor can spruce up a drink station without taking up too much space.
---
TIP:

Go for a signature Christmas cocktail (or mocktail) that's the star of the party. Our go-to Christmas drink is this Mocktail Punch from Grace Mitchell.

Download the Recipe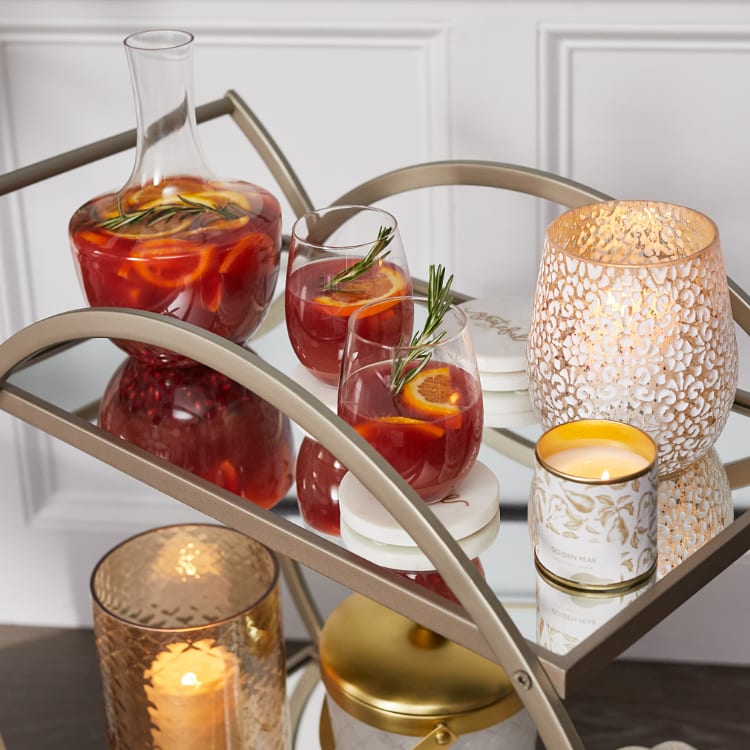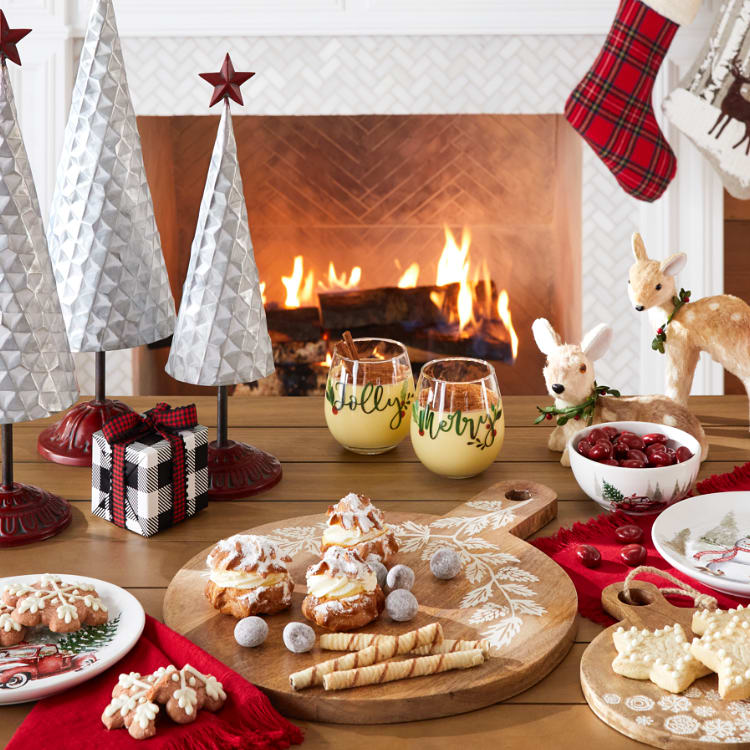 3. SERVE UP SOME HOLIDAY CHEER
Whether you're planning a buffet, passing snacks and apps or doing a whole sit-down Christmas dinner, the food is always the star of the show. Planning ahead is key to serving smoothly without being in the kitchen the whole time. Set up all decorative items, nonfood items and nonperishables before guests arrive.
Choose the right serveware with form and function. Pure white pieces make the perfect backdrop for colorful foods and elaborate tablescapes. Dishes with bright colors and bold patterns can be an eye-catching centerpiece for a more pared-down Christmas table setting. Use a cake stand to vary the height of your serving platters — this gives visual appeal and increases your usable space.
---
TIP:

If you're serving a buffet, start with the main course, then flow into sides, and end with salad and rolls. This reverse order ensures your guests won't run out of room on their plates before getting to the main dishes. (Serve your pie and fruitcake on a separate dessert table so people don't have to pile.)
4. TRIM THE TABLE (NOT JUST THE TREE)
Festive accents and merry little details are the perfect backdrop for your holiday feast. Tablecloths not only add to your look but also protect tabletops from spills. Layer in coordinating holiday placemats and decorative chargers to save tabletops from heat and water rings. For something quick and disposable, wrapping paper can double as a Christmas table runner.
Christmas tabletop décor can be anything festive. Faux greenery is a stylish way to add a natural touch. If you're going for charm, a mini Christmas village makes for an unexpected centerpiece. Or you can go bold with tall hurricanes filled with pillar candles, adding a romantic holiday glow. (Just be sure to use unscented candles when serving food.) And don't forget the sparkle! Sprinkling in metallics and glass can add just the right amount of glam.
---
TIP:

Decorating the chairs can add a layer of style without taking up valuable table space. Use ribbon to drape wreaths or ornament clusters to level up the whole look.