1. GET CREATIVE WITH your planters
From bright florals to faux botanicals, greenery will add movement and freshness to your outdoor oasis.
Tall pots and tall-stemmed plants draw the eye upward, making an area seem bigger. Hanging planters can make an area seem wider. Think there's no such thing as too many plants? A vertical wall planter is just the thing to maximize your space and always have room for just one more.
For a sleek design, choose a coordinated set of planters. Mix and match pots of varying materials and colors for a more eclectic, collected look. Brightly colored pots will create visual interest, while neutral-colored ones can create a blank canvas for more eye-catching plants.
---
TIP:

Place greenery in odd-numbered groups using thrillers (attention-grabbing plants), fillers (plants that add texture without visual clutter) and spillers (trailing greenery that spills over the edge of a pot).
2. Update YOUR cushions & pillows
Ready to pop your patio space? Meet your new bae. Comfort that's classy, cool and charming; chic, clever and contemporary.
Outdoor pillows and cushions can be easily changed out seasonally, so your space will always feel fresh and new. Light, bright colors are perfect for warmer months, while rich, deeper hues welcome in the fall and winter.
Don't be afraid to go big. With open air on multiple sides, your patio is the ideal place to lean into mixing bright colors and bold patterns. Stick to using three or four shades to keep things looking designer, not disaster.
---
TIP:

Your outdoor pillows will look fresh longer if you look after them. Put them in a covered area during storms, or better yet, put them in a convenient outdoor storage chest when you're not lounging.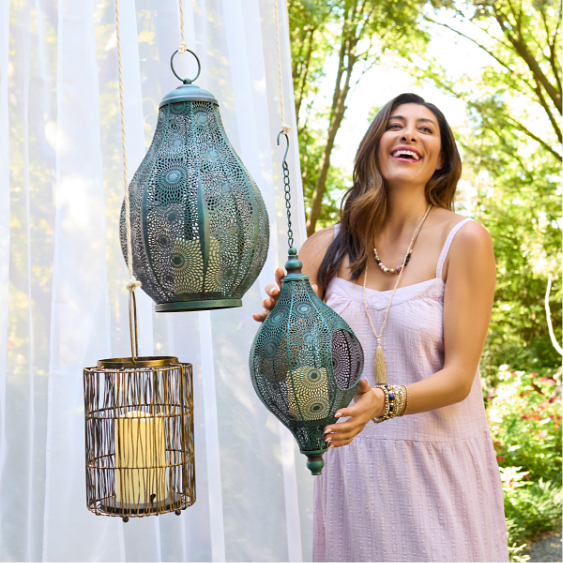 3. ADD SOME LIVELY LIGHTING
Want to create an instant Insta-ready patio? All you need is some lighting you love, and there are literally endless options.
Choose at least two to four types and heights of light sources. Think café lights with hurricane candles and path lights, or hanging lanterns, votive candles and trees wrapped with twinkle lights. More is more with outdoor lighting.
Lanterns and hurricane candles are the real secret behind versatile patio lighting. They move with you from dining table to deck chairs and can hang from hooks or strings for extra lighting or extra style. Plus, they're perfect for mixing and matching, letting you easily change up the arrangement on a whim.
---
TIP:

Flameless outdoor candles will be your new fave. They're battery-powered, weatherproof, fire-safe, can be placed virtually anywhere and come in variety of colors, styles and sizes. (Most even flicker like real candles to give you that late-night magic along with the candlelit glow.)
4. OPT FOR AN OUTDOOR RUG
Looking to upgrade your outdoor space in one move? You don't need a change of address, just an outdoor rug.
Rugs are the perfect way to transition from indoors to out and make your patio feel like an extension of your home. Adding a rug is one of the quickest ways to change up your look or bring your design together. (Plus, it adds tons of style while taking up almost no extra space.)
Outdoor rugs are your bare feet's best friend. They'll keep flooring from getting too hot in the summer and keep it warm and cozy during the cooler months. They soften hard surfaces, cover unsightly spots and can help create visual distinction between different areas of your patio.
---
TIP:

Weather-resistant outdoor rugs are made to be extra-durable, easily washable and less expensive than indoor rugs. (That also makes them a great option for high-traffic indoor areas, in our opinion!)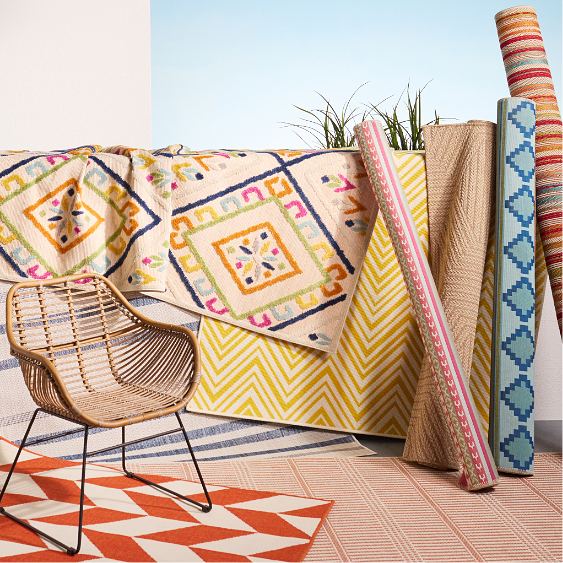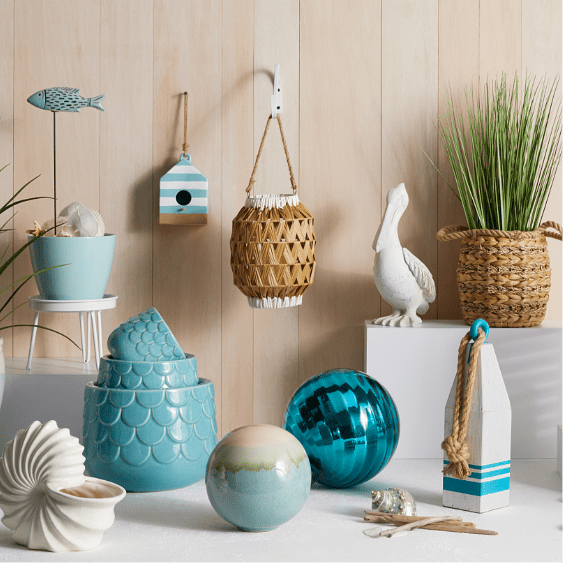 5. UPGRADE YOUR OUTDOOR DÉCOR
The secret to stunning outdoor living space ideas? It's all about putting the finishing touches on your space with outdoor décor.
There are endless ways to spruce up your outdoor space and add some personality to your design. Pick the perfect pieces to create a space that's as unique as you are. Or perk up your patio in an instant with a curated outdoor décor collection that already has everything you love.
Focus on layering. Trays are an easy way to add an element of design without making surface areas unusable. Hang welcome signs or sassy sayings on walls. Sprinkle statues and fun décor throughout your area, on surfaces and in the garden.
---
TIP:

You have even more options if your patio is covered. Try hanging nature-based artwork or an unbreakable mirror on a protected wall so you have a gorgeous view no matter which direction you're facing.