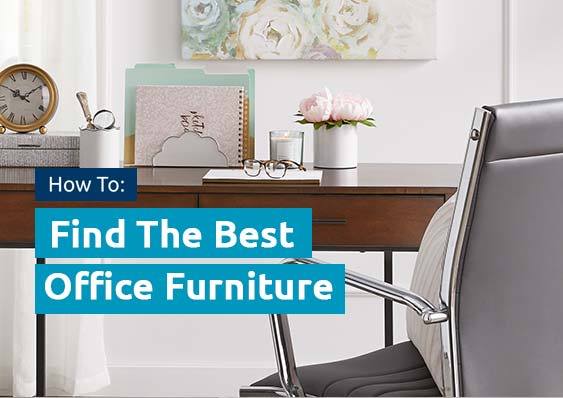 Working from home can be a challenge at first but At Home is here to make the process simple and effective. Bring the productivity of the office into the comfort of your own home with tips from At Home.
The Best Office Furniture to Fit your Style and Budget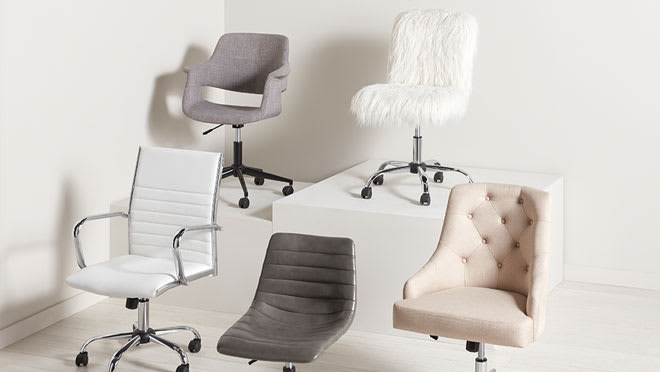 1. Comfortable Office Chairs for the Remote Worker
There are many steps one can take when furnishing their space for an effective home office. An important first step is finding the right chair to adorn your office space. Comfort is at the forefront of choosing the best office chair, but other factors like color, style, and size are equally as important. Choose from options like our Maxwell Adjustable Office Chair that will enhance your office space and keep you productive in your work. Make a stylish statement with our Found & Fable Sherpa Chair to bring your office that extra comfort it needs. Jumpstart your home office aesthetic today with the perfect furniture addition. The next step in the process is finding the best office desk for all of your working needs.
2. Versatile Office Desks to Tackle the Work Week
Now that you have picked out your office chair, it is time to pair it with the perfect desk. You can never go wrong with implementing a versatile office desk in your space that accommodates your style and budget. Our Parkview Writing Desk is a great fit for any office whether you are in need of a large surface area or you just want a desk with storage space. Our Honeybloom Burnaby Desk will accommodate all of your office accessories including your laptop or computer, keyboard, mouse, and lighting. Find a desk that will fit your office needs and keep you effective in your daily work. After having found your perfect desk, the next step to furnishing your office space is selecting a bookshelf to enhance your work area further.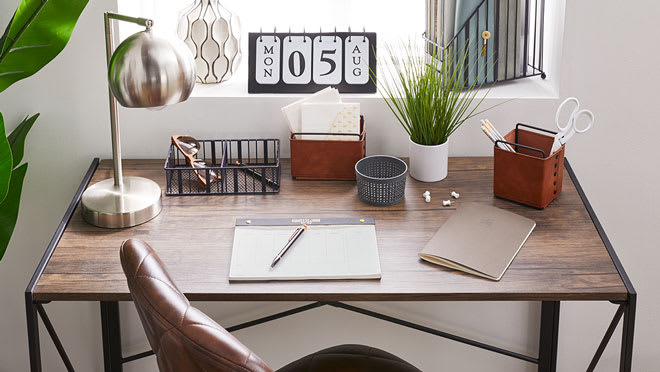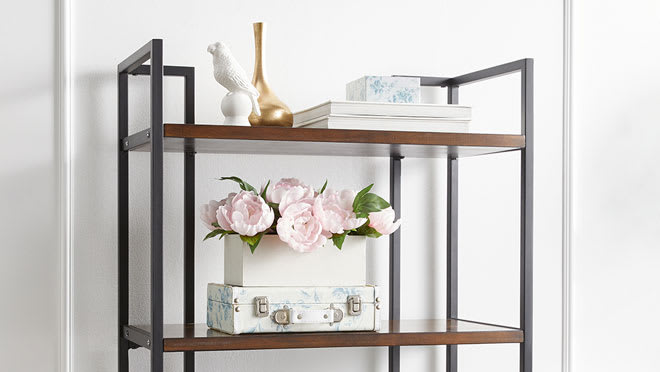 3. Sophisticated Bookshelves to Enhance your Office
Now that your main work area is furnished, it is time to adorn your office with additional furniture selections that are necessary to the overall workflow. A sophisticated bookshelf will enhance your office area and provide that much-needed storage space. You can never go wrong with an expertly crafted shelf like our Vienna Folding Bookshelf that allows for the storage of books, supplies, and anything else the perfect home office worker may need. It also allows for increased versatility with its lightweight design so that you can move it to and from your home office and your company office with ease.
There are many options to improve your office aesthetic and provide enough open office space so that you don't feel crowded while working. The Theo Bookshelf is a great example of providing a simple yet chic feel to your space. Your home office space is now well on its way to becoming the beacon of productivity it was always meant for. Next, keep your work area nice and clean with office organizational supplies.
4. Keep your Office Space Clean and Organized
Other essential office adornments are organizational tools and supplies to keep your space tidy and maintain your productivity. Every great office needs desk drawers for storing office supplies like notebooks, devices, and letter holders to organize your important documents needed for work. Customize your home office with different colored and styled desk organizers, caddies, and cups to bring your own personal flair to your office surroundings. These are just a few of the necessary office items that will propel your office into the best space for increased work efficiency.
Select the best organization supplies that will stay within your office budget and help you to excel in your work and home life. Keep your office space clean and coordinated with these simple steps and enhance your space to new heights with the best office furniture options on the market. Maximize these steps further by learning the best tips and tricks for the hybrid worker both at home and in your company office.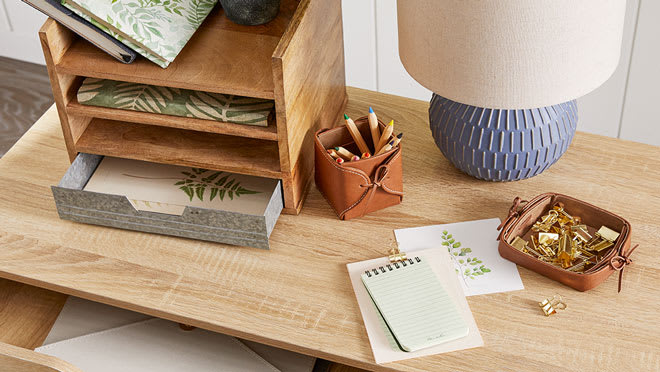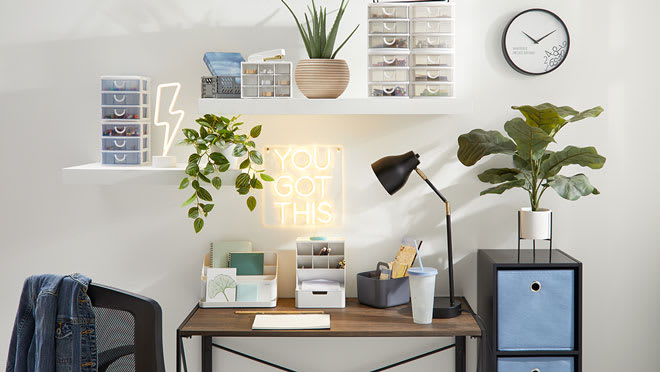 5. Home Office Tips & Tricks for the Hybrid Worker
It is very achievable to create a perfect office environment from the comfort of your own home but, this duality can be challenging when you work from both office spaces. Still, your time between both can become a hectic endeavor without these few steps to ensure you maintain your best workflow. The first step is implementing the necessary furniture in your office with that including an office chair, desk, and bookshelf. As well as office organizers that will keep your space neat and organized. These furniture and office accessories will increase your productivity especially when these are brought to the office with you. Keep the furniture and other items that are too big to move easily at your home work area but bringing your office organizers or folding bookshelf will keep you in that work mindset at the forefront.
That safe home work space that you developed can be transitioned into your company work space with ease. This will ultimately be achieved when joined with following a few essential tips. Make sure that you work your regular office hours, set time for breaks, and create rigid routines to follow during your work time. And above all else, maintaining a clean work space both in the office and at your home space will keep you in a positive attitude and ensure these learned skills never diminish. Once you have learned the best routine for your hybrid work style, make sure to share these tips with your coworkers. This will allow everyone to understand each other's working styles and keep everyone on the same page so that the only goal is increasing wellness in your work and each other.
---

Your perfect home office awaits when you browse our many furniture selections. These tips above are just a fraction of the true capacity of your home office adornments. Adding an accent rug to your workspace, throw pillows for your office chair, and wall accents to keep you inspired throughout your workday. There are no limitations to what you can bring to your own office work area. Maintaining a constant workflow and attaining the necessary skills for increased efficiency is the name of the game when working from home.