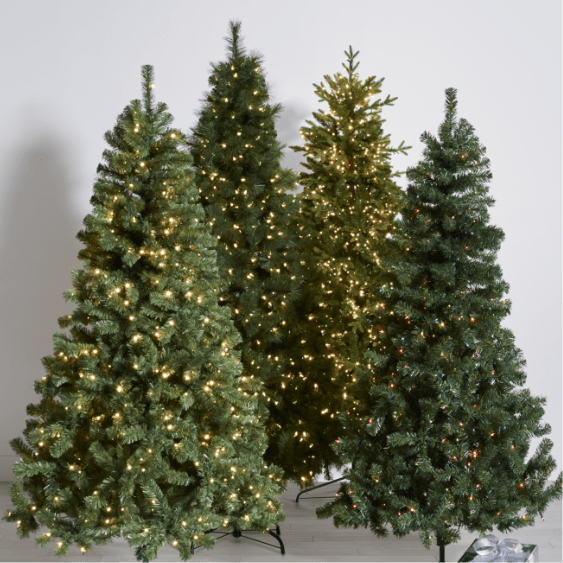 1. SET UP THE TREE
It's Christmas tree time — YAY! Once you've chosen a place for your tree and set it up, don't forget to fluff the branches. Doing so helps make your tree fuller and gives it a more natural look. Separate each branch and fan them out so you have minimal gaps.
If have a pre-lit Christmas tree, it helps to have the lights on while you do this to make sure your tree really shines. As you're working your way around the tree, step back occasionally and look at it from various angles to make sure it appears balanced.
---
TIP:

Want to give your tree a major glow-up? Add additional Christmas lights to your pre-lit tree.
2. CHOOSE A THEME
A Christmas theme makes for Insta-worthy pics and totally targeted shopping trips. It also helps keep the look of your tree balanced so all your ornaments and decorations, from the topper to the skirt, work stylishly together with all your collected heirloom pieces.
Need some holly-jolly inspo? We've got you covered with our themed Christmas collections. No matter what kind of Christmas you're going for, from chic and sophisticated to extra-merry and fun, coordinated looks like these make choosing decorations so easy!
---
TIP:

Our style elves have gathered 13 exclusive Christmas collections for you, so getting everything you need is quick and easy.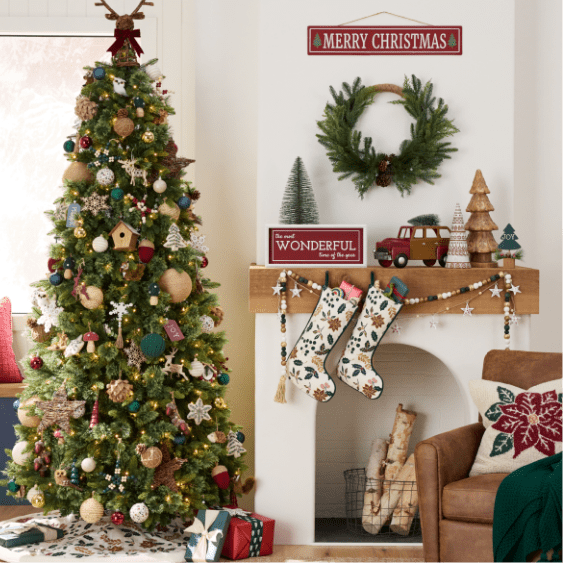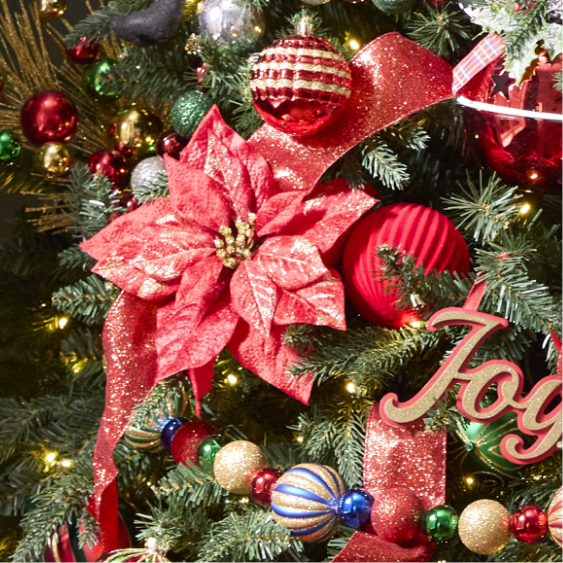 3. GARLAND & RIBBON
You'll want to choose a garland or ribbon before you place ornaments on your tree. This creates a full and layered look that designer trees are famous for. Generally, you'll want to plan for about two strands of garland for each vertical foot of tree.
Start from the top and work downward, slightly decreasing the amount of space between each tier as you move down. To give the tree added depth and fullness, you can tuck garland or ribbon more closely near the trunk.
---
TIP:

If you're adding ribbon, styles with wired edges are easier to work with and hold their shape longer through the season.
4. ADD TREE PICKS & FLORALS
Bring on the sparkle and drama with tree picks and floral clips. With so many types and styles, it's easy to find ones that work with your theme or add a dash of contrast to your look. (Be sure to save a handful of them to fill in any gaps between ornaments at the end.)
As you're placing them, occasionally step back to make sure they're evenly distributed and you're leaving plenty of room for ornaments. With picks, it helps to use ones with bendable stems so you can easily mold and shape them onto the branches.
---
TIP:

To make the groupings even more impactful, use floral wire to tie multiple picks together and thread between Christmas tree lights.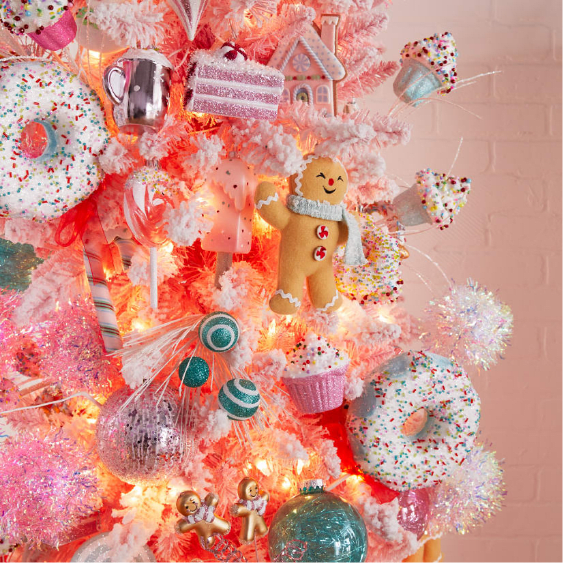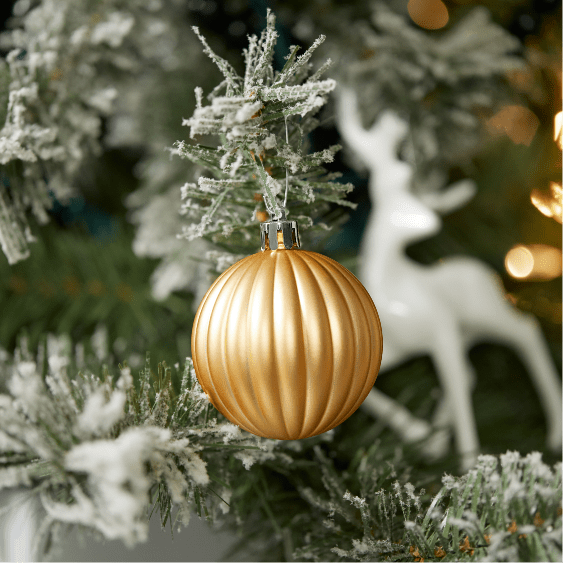 5. TIME FOR ORNAMENTS
Now it's time for the main event… Christmas ornaments! Start with larger ornaments and hang them top to bottom in a zigzag pattern. This helps keep them evenly spread out, with enough room to fill in medium and small ornaments afterward. You should average about 10 ornaments per vertical foot.
To create depth, place larger Christmas tree ornaments closer to the trunk (this also makes the tree sparkle from the inside) and smaller ones toward the ends of the branches. For visual interest, get boxed ornament sets to mix up the colors, shapes and fun characters and add personality. Lastly, add in your favorite ornaments in prominent sections to make sure they get the attention they deserve.
---
TIP:

If you have pets, children or important personalized Christmas ornaments, use shatterproof styles instead of glass ornaments (and keep more delicate or cherished ornaments higher on the tree).
6. THE FINISHING TOUCHES
It's Christmas tree topper time, and the possibilities are truly endless — from a traditional angel tree topper to a brightly lit star or sophisticated bow. Just make sure you choose a topper that fits your theme and the proportions of your tree.
Want one last little detail? Go for a stylish Christmas tree skirt. Even though it's at the bottom, the perfect tree skirt can be an eye-catching focal point, helping balance the overall look of your tree. It's also functional, hiding unappealing tree stands and protecting the floor. Plus, it makes for a picture-perfect backdrop for all those beautifully wrapped presents!
---
TIP:

Be sure to measure the distance between the treetop and ceiling for a topper that fits just right.